http://www.slate.com/articles/news_and_politics/explainer/2012/04/etan_patz_case_why_did_dairies_put_missing_children_on_their_milk_cartons_.html?wpisrc=sl_iphone
Click above to learn more.  Complete a Blog Log.  Comments?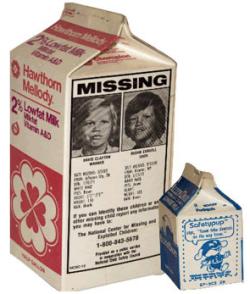 2 Responses to "Kids on a milk carton?"
Rachel N Says:
October 4th, 2012 at 10:02 pm

I think it would be very beneficial because, where else would you see these missing ads? It makes people more aware of who's missing or not.

Fowad S Says:
October 3rd, 2012 at 7:48 pm

Just at the sight of the carton it made me wonder why putting missing ads would be beneficial to anyone. If anything it would have a negative effect on children. There is a strong possibility that a student has had a family member or friend who has been kidnapped or been missing. This would just remind them of the tragedy that has struck their family or community.